Temescal SuperSource E-Guns—The Industry Standard for Electron Beam Deposition
With their removable crucible covers, Temescal's Model 3CK, 2CK and 1CK SuperSources offer enhanced versatility, convenience, and dependability in a wide variety of coating applications. The crucible cover exposes only the pocket in evaporation position, reducing the risk of cross-contamination. Crucible cover removal allows speedy source replenishment and makes it easy to clean the crucible and adjacent structures in situ, without risk of cross-contamination. Removing the cover requires only the removal of four screws; it is not necessary to blow the cooling water out of the source beforehand. In addition, once the water is blown out of the source, the crucible can easily be replaced, either with a clean crucible of the same pocket configuration or with a differently configured crucible.
Models
Temescal 3CK, rated up to 12kW
Temescal 2CK, rated up to 10kW
Temescal 1CK, rated up to 8kW
Easily removable/replaceable top plate and crucible
Side or bottom drive
Multipocket crucibles are available in numerous configurations
Continuous-trough carousels, crucibles with banana-shaped pockets, and 'skillet'-type evaporant holders are also available with the 3CK and 2CK source
Smaller crucibles are offered for the 1CK gun in 4x7cc and 6x4cc pocket configurations
Power ratings: 1-12 kW (Model 3CK), 1-10 kW (Model 2CK) and 1-8 kW (Model 1CK)
Enhanced crucible cooling improves thermal stability during evaporation
Ultra-stable magnetics eliminate the need to regauss magnetic parts following source disassembly
Adjustable internal and external polepiece extensions optimize beam spot control
Temescal Removable Cover SuperSource Specifications
Dimensions
See illustration
Weight
23.5 lbs. (10.7 kg)
Rotation torque
10 in.• lbs. (11.5 kg • cm)
Max. bakeout temp.
302° F (150° C)
Max. power
8 kW
Acceleration voltage
4–10 kV
Operating pressure
Maximum
5 X 10-4 torr (6.7 X 10-4 mbar)
Minimum
1 X 10-4 torr (1.33 X 10-4 mbar)
Beam characteristics
Deflection
270°
Spot size/shape
From tight oval to diffuse oblong
Evaporation rate
25 kÅ of Aluminum at 10-in. (254-mm) source-to-substrate distance
Sweep capability
Longitudinal and lateral when operated with a beam sweep controller

Installation Requirements

Input power
Filament current
70 A at 12 V ac
Emission current
0–1.5 A at 4–10 kV dc (8 kW max.)
Cooling water
Max. temperature
68° F (20° C)
Flow rate
2.75 gpm (0.17 l/sec.)
Max. inlet pressure
100 psi (6.89 bar)
Min. delta pressure
50 psi (3.45 bar)
Feedthroughs
High voltage
Two HV feedthroughs rated for 12 kV at 70 A
Octal
One octal feedthrough rated for 110 V at 3 A per lead
Dual pass
One dual-pass feedthrough with 3/8-in. (9.5-mm) OD tubes
Rotary
One rotary-motion feedthrough with 1/4-in. (6.4-mm) diameter shaft
Representative Deposition Rates
The chart below shows deposition rates obtained using Temescal sources such as the 2PT and the 3PT. Consult Temescal for detailed information about how deposition rate and uniformity are affected by source operating volt age, beam sweep and density, and other fundamental process variables.
Deposition Rates of Various Materials from Temescal Sources*
*25-cc pockets used in all tests. Source-to-substrate distance: 250 mm
Model 1CK Dimensions
Model 2CK Dimensions
Model 3CK Dimensions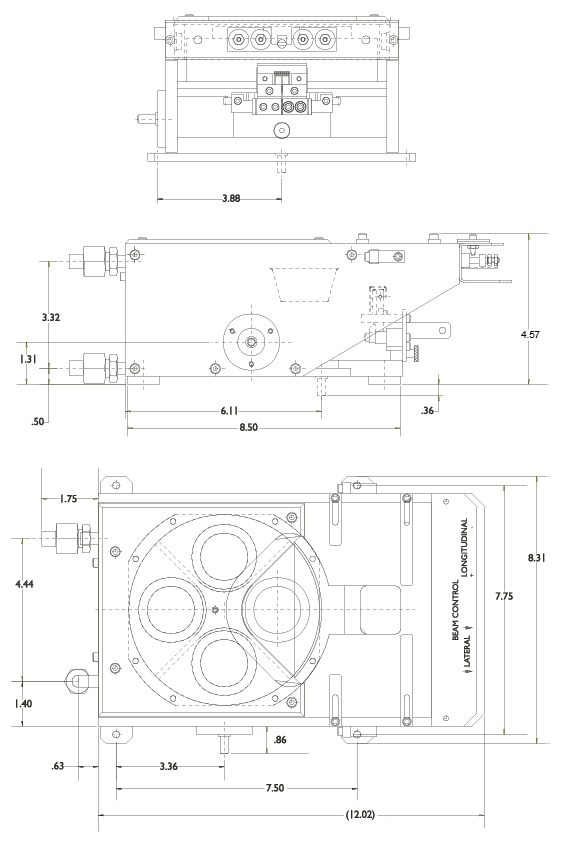 Temescal Model 2CK and 3CK Removable Cover SuperSources
Temescal Model 1CK Removable Cover SuperSource
When ordering a Temescal e-gun, you need to follow this process:
Step 1
Specify a source
Step 2
Specify a crucible
Step 3
Specify a crucible cover
For each source you wish to order, you must select part numbers for:
A base unit
An emitter
A spare parts kit
After selecting your source, crucible and cover, please select any accessories that you would like to add to your order.
3CK SuperSource—Base Unit* and Emitter
3CK SuperSource—Crucible Cover
2CK and 3CK Source Accessories
Items to be included in your quote request
2CK SuperSource—Base Unit* and Emitter
2CK SuperSource—Crucible
2CK SuperSource—Crucible Cover
Items to be included in your quote request
1CK—Base Unit
1CK Crucible
1CK Crucible Cover
1CK Optional Source Accessories
1CK Optional Crucible Liners for 7-cc Pockets
Items to be included in your quote request